Is the newest and trendiest Zawara Coffee in Cyberjaya any good? Read our review here to find out.
From time to time, a new kind of Coffee Shop randomly pops up around Klang Valley. Recently, Zawara Coffee started showing on my Facebook feed and I was pleasantly surprised that they just opened one in Cyberjaya, and they already have multiple branches all over KL.
There are no less than 10 coffee stores in Cyberjaya. Imagine just a few years ago there's no way you can find good coffee in Cyberjaya! So much have changed in recent years that Cyberjaya folks now have more places to dine and hangout.
Zawara Coffee, the latest addition to Cyberjaya has just opened its newest branch in Cyberjaya. It is located at the following location:
Zawara Coffee
I-11, Jalan GC 11,
Glomac Centre, 63000, Cyberjaya
The specific location is right the opposite of the colourful building along Persiaran APEC near the MDEC office junction. If you're entering Cyberjaya from the North via LDP, you should see it on the right just after the old Ericsson building. Alternatively, you can always Waze for the right location.
While it's called Zawara Coffee, they serve more than just coffee. They also serve food which you can enjoy at any time of the day. The staff were very friendly and approachable. It has an industrial look with exposed bricks on the wall and painted concrete floor.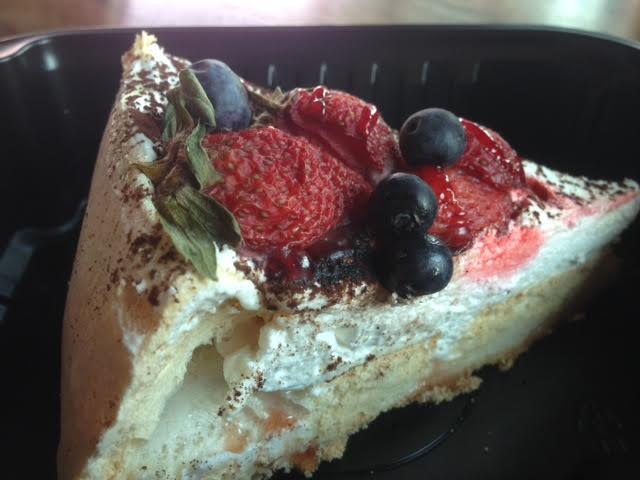 There are plenty of unique selections on the menu. Today I had the opportunity to try their Spaghetti Crab Meat Carbonara, Pavlova and Salted Eggs Chicken Wings. I only ordered green tea to avoid consuming too much calories!
I was extremely pleased with carbonara as it wasn't too creamy nor salty. There's a bit of dried chilli which gives a bit of hint of spiciness.
The pavlova though wasn't looking so fresh judging by the look of the strawberry but it was still acceptable. It was interesting to have the salted egg chicken wings although I find it a bit soggy. My friend ordered the soft shell crab burger and he seemed to enjoy it.
I definitely would come back again to try other things on the menu.
Some of the menu listed below can be found on their website but I decided to post them here as a quick reference for readers.
Zawara Coffee Cyberjaya Menu
Fast Gourmet – Dip & Dunk
Additional Italian Herbs Bread RM3.00
Additional Cranberry Walnut Bread 

RM3.00

Kacang Pool 

RM19.00

Scallop & Clam Chowder 

RM19.00

Cappucino Wild Mushroom Chowder 

RM19.00

Singapore Red Lamb Shank 

RM29.00
Fast Gourmet – Spaghetti
Spaghetti Crab Meat Carbonara RM19.00
Spaghetti Spicy Marinara Crab 

RM19.00

Spaghetti Thai Minced Beef 

RM12.00

Spaghetti Salmon Carbonara 

RM19.00

Spaghetti Arabiata Bolognaise 

RM12.00
Fast Gourmet – Hotdogs and Burger
Soft Shell Crab Burger RM23.00
Cheese Meltz Burger 

RM15.00

Coney Dawg 

RM12.00 

New York Chicken Hotdog 

RM12.00

Chicago Beef Hotdog 

RM12.00
Desserts
Pavlova RM15.00
Seri Muka Cake RM15.00
Bandung Laici Cake RM15.00
Walnut Butterscotch Cake RM15.00
Vanilla Mille Crepe RM15.00
Midnight Chocolate Mille Crepe RM15.00
Prices may be slightly on the high side but I believe that's due to premium ingredients are being used.
How many star ratings would I give? Based on today's experience, I'll give them a 3.5 star rating.
If you've been to Zawara Coffee in Cyberjaya, do leave your comments below. Perhaps the operator would bump into this article to get feedback they need from actual customers!
Comments
comments