Cyberjaya has its own Dedicated Transportation System (DTS) or shuttle service that's extremely cost effective for those who live outside of Cyberjaya.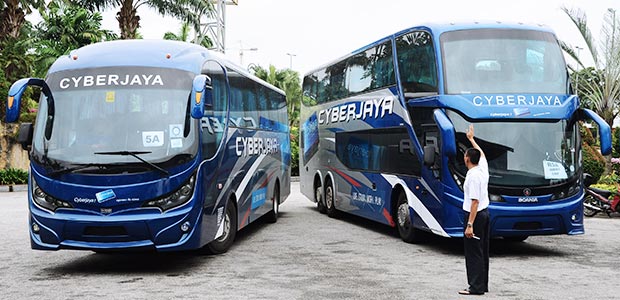 As more and more companies are setting up their offices in Cyberjaya, people are trying to find the most cost effective way to get to Cyberjaya. If you don't intend to drive or don't have your own transportation, you should consider using Cyberjaya's DTS.
Cyberjaya's DTS is essentially a transportation company providing shuttle service around the Klang Valley and up to Seremban in Negeri Sembilan.
1. What are the DTS routes?
As at today, there are nine pickup and drop-off points:
Route 1: KL Sentral – Cyberjaya
Route 2: Gombak – Melawati – Ampang Point – Cyberjaya
Route 3: Terminal Bersepadu Selatan (BTS) in Bandar Tasik Selatan – Bukit Jalil LRT – KTM Serdang – Cyberjaya
Route 4: Kepong – Bandar Utama – Cyberjaya
Route 5: Klang Parade – Klang (South) – Bukit Tinggi – Cyberjaya
Route 6: Seremban – Nilai – Cyberjaya
Route 7: Kelana Jaya LRT – Puchong (Tesco LDP) – Cyberjaya
Route 8: Shah Alam – Cyberjaya
Route 9: Subang Jaya (Summit) – Cyberjaya
These are strategic spots where most LRT and Komuter interchange stations are.
2. How much does Cyberjaya DTS Cost?
The company that manages DTS charges RM250 per month. That's about US$70 per month. Considering there are 20 working days a month, it costs less than US$4 per day (return trips) to use this service. You don't even have to think about parking, toll, fuel to get to Cyberjaya. You can even take a short nap during your commute.
3. Who can use Cyberjaya DTS?
The service is open to all companies, universities, and colleges in Cyberjaya.
4. How much can I save using Cyberjaya DTS?
DTS claims that you can save up to RM4,000 (US$1080) a year by using this service. If the claim is true, that's quite a big saving.
5. Do I need a special pass or access card to use Cyberjaya DTS?
Once you have registered with DTS, you will get a tiny device called the i-Button which looks something below:
This is an electronic RFID tag and works like a ticket to board the DTS. The device stores details of the user such as the person's name, route, work shift and i-Button serial no.
6. How to use the i-Button?
The following instructions are given on their website:
a) Users are required to tap the i-Button on to the i-Button reader placed at the entrance of the bus. When tapped, the reader will emit 2 short beep for valid i-Button and booked travelling time.

b) However, if you hear 1 long beep, it signifies that your i-Button is inactive (not validated / no booking made).

c) Passengers are not required to touch the i-Button to the reader when alighting the bus.

d) Once the i-Button is tapped to the reader, the user is registered as being a passenger on the bus.

e) User may not change the shift time unless it has been changed through online booking or to call the call centre for arrangement before departure.
7. How to Register for Cyberjaya DTS?
You'll need to register first before using their service. Bring RM300 cash with you and go to their office at the following address in Cyberjaya:
Cyberjaya Transport Terminal (CTT)
Persiaran Multimedia
63000 Cyberjaya, Selangor     
Tel: 1-300-227-387  
Once you're there, pay RM300 (RM50 is for deposit) and provide your email address. You will be given a username and password. Use the credentials given to you to book for your route here. I have no access to their system so not sure how it looks like, so do share with us your experience.
8. What kind of fleet do they have?
Their fleet is made up of multi-seater full sized coaches (bus), medium sized coaches and mini vans.
9. What are facilities available on the bus?
According to them, they provide free WiFi on board. Aside from that, it's just a transport to take you from Point A to Point B.
10. What other information available?
Although I have provided as much information as possible here, other important information can be found on their website. I hope this guide is useful.
If you think this article helped you in any way please Tweet, Share on Facebook, +1 below!
Comments
comments