After Cyberjaya was established around 20 years ago, the first McDonald's restaurant is finally opening in the city.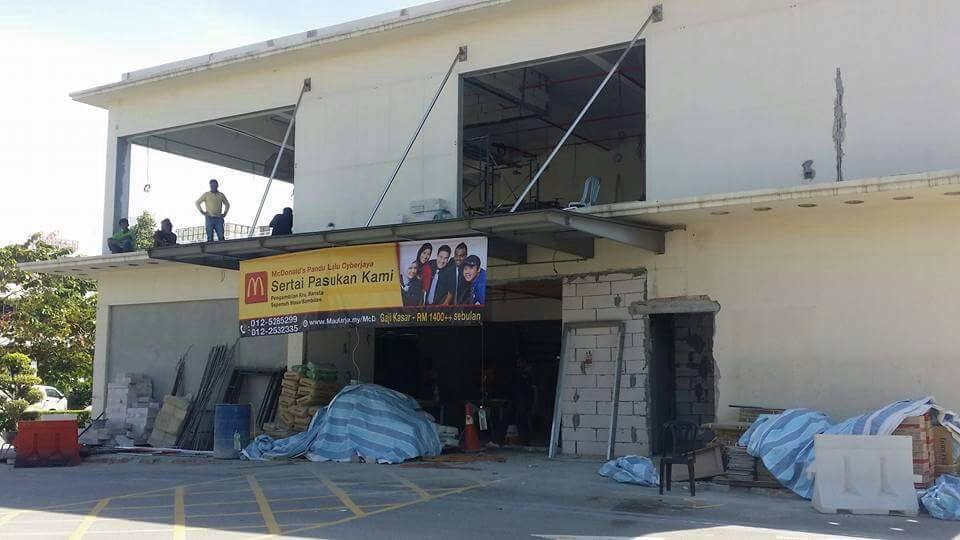 It was indeed ironic because about two months ago, I wrote about the new McDonald's in Putrajaya was the only nearest option for folks in Cyberjaya to dine at this restaurant.
However, today we discovered that it's finally opening in Cyberjaya.
It's located at the former Maybank branch next to CIMB in Prima Avenue. This place is normally busy, perhaps the opening of this restaurant will make this place even busier.
Based on the banner shown outside the restaurant, they are now actively hiring people to join the new team.
It's very likely that the McDonald's in Cyberjaya will be 24 hours, since there are many companies there operate 24/7.
The place is currently being renovated and may take around two months to be completed. Perhaps they're planning to open it by Christmas.
The new McDonald's in Cyberjaya will become the fourth one in Putrajaya and Cyberjaya areas. The other somewhat near branch is in Salak Tinggi on the way to the airport via Dengkil.
What a huge contrast this will be when considering just a few years back, there are not plenty of food options in Cyberjaya.
The photo which I posted on the Cyberjaya Community Facebook page, has already been shared almost 100 times and followers are tagging their friends to share about this "good news":
I'm also hoping that McDonald's will have a healthier menu options just like in some Western countries.
Do you need McDelivery or McDonald's Delivery Service to your home in Cyberjaya? Contact us here.
Please continue sharing this to your friends who are crazy about McDonald's!
Comments
comments